MWHF Swim Team Starting Off Strong
The Holy Family Girls Swim Team started off great amid the coronavirus. The Fire, cooping with Mound Westonka, Swim team starting off together with a 4-2 start. There are 30 girls on the MWHF Swim Team, and 7 of those girls are our own. The Fire add some fresh new faces this year with 4 freshmen, Abigail Ries, Catherine Dueck, Angelina Huynh, and Claire Duncan. The fire also adds sophomore Courtney French to the team. The only two returning swimmers are outstanding Juniors, Emily Zhou and Ellen Ries.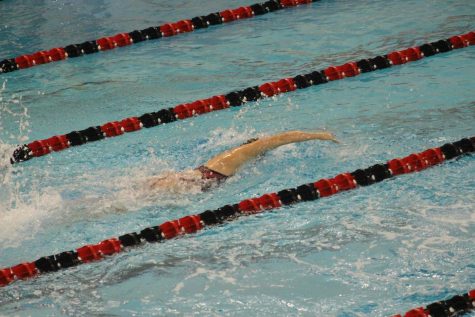 Other changes to this year? Trying to maintain social distancing and to keep everyone safe. Ellen Ries says, "we only have four people in a lane at a time, where we used to have 7-9". However, "the worst part is having to separate JV and varsity practices, as the team feels much more divided," Ries says. There is no doubt that things are more challenging this year, however, she says that she is "very grateful that the MSHSL is allowing us to have a season." With everything going on, there is some doubt that the MWHF team will swim at sections this year. However, their collective goal is to have an "end of season meet in which [they] can all swim well and have as many all-conference swimmers as possible," Ries says. Our swim girls are hoping that they can get as many meets in as possible. Their next meet is on October 13 at Dassel-Cokato High School.