Holy Family Girls Basketball Preview
This year, the Fire's girls basketball team is without seniors and is riding on talented juniors, sophomores, and even freshmen. Last year, the season ended when the team lost to state contenders Providence Academy, 67-39.
The Fire are led by  juniors Reagan Cizek and Nicole Bowlin. Also returning are sophomore Sophi Hall and freshmen Berkley Neubauer and Sophie Zay. Freshmen Kate Buchholz and Lauren Weigel also show a lot of promise.  Unfortunately, the Fire are without junior guard Lucy Hertel who has an ACL injury that occurred in the fall.
We caught up with Reagan Cizek on what she is looking forward to this upcoming season. "Being able to have a season with the circumstances we are in, along with my teammates and hopefully winning sections is what I am looking forward to the most." This team's collective goal is "to win their section and make it to state," according to Sophi Hall. Hall also said that her goal this season is to "have good teamwork and actively talk on defense."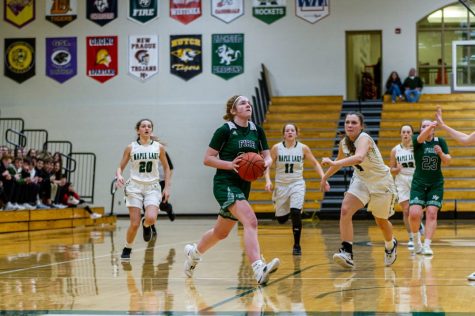 The Fire last year had an average of 12.9 assists per game, and 9.1 steals a game, and with Hertel out this year, they will have to work extra hard to keep up with other teams. As the Fire only have 7 players on varsity as of now, they are going to rely heavily on the returning players: Bowlin, who averaged 10.8 ppg, Cizek with 4.6 ppg, Hall with 10.3 ppg, Zay with 6.5 ppg, and Neubauer with 1.8 ppg. The 2021 season has been cut significantly, only playing 18 games and most of them against conference rivals. The girls will open their season against Annandale High School at home on Tuesday at 7:00 pm.