Artist Spotlight: Lucy Treat
At Holy Family, some remarkable artists walk our halls. Lucy Treat's incredible artwork hangs in our school hallways, and there's a reason for it. Among other awards, she recently received recognition in the poster contest to celebrate International Lasallian Youth Peace month. The theme was "Peace without Limits." Her entry hangs in the A wing halls, next to Mrs. Bosch's classroom. I had the pleasure of asking her some questions about her artwork.
What sparked your interest in making art?
I've been making art ever since I can remember. My mom is an art teacher and has always encouraged me to be creative. When I was younger, I would watch her paint, sew, make jewelry, and do other crafts and sometimes she would let me help her. Also she signed me up for art classes.
What is/are your favorite mediums (paint, pencil, etc)
I like using art marker like Copics and ink.
Who inspires you as an artist?
Other artists, like Frida Khalo, Georgia O'Keefe, and Andy Warhol.
Is there a common theme behind your art – do you tend towards drawing nature or people?
I don't really have a specific thing I like to draw. Instead I keep my options open and make art from whatever inspires me at the moment.
What piece of art are you most proud of and why?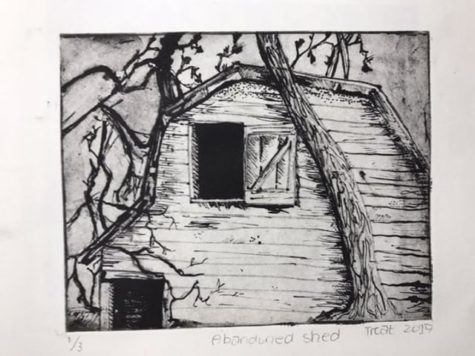 This is my current favorite because it was the first print I ever made. There is a ton of detail in it, which adds interest and catches your eye, even though there's no color.
Lastly, is there anything you'd like to say about the importance of art and how it has influenced you?
I enjoy making art, but I've also committed myself to making art everyday in order to improve. Because I spend so much time on it, it plays an important role in my everyday life.  
Click through the slideshow to view some of Lucy's other work.