Artist Spotlight: Nate Schiffler and Maggie Mahota
Both Nate Schiffler and Maggie Mahota are incredibly talented on the clay wheel. Just ask countless students who have taken clay or attempted making a bowl, including me, and have epically failed. They each manage to mold the intimidating mound of sediment into something intricate. The ability to not end with a lump is talent within itself, but these two take their skills to another level.
Recently, Maggie made a tea set out of clay, and Nate created a clay version of Patrick Star from SpongeBob. I have personally taken advantage of this talent… I'm not going to lie, I have saved a lot of money these past years by using Nate's mugs and vases as gifts for my mom. The process of creating clay pieces requires an intense amount of patience and attention to detail…something that not many of us have. I really enjoyed asking these two about their experiences with clay.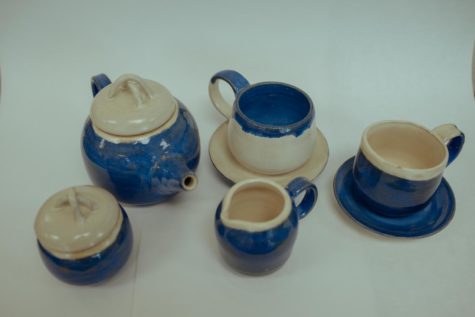 Why did you decide to start making clay pieces?
Nate: I decided to start making clay pieces because it was a fun distraction from the rest of the school day.
Maggie: I decided to try clay because I always enjoyed the small clay projects we did in middle school and thought throwing on the wheel looked like fun. When both of my brothers took the class and really enjoyed it, I knew I wanted to try.
What inspires you when making new pieces?
Nate: I find inspiration through clay videos and my own ideas.
Maggie: My inspiration for my pieces comes from all over. Sometimes it's a picture of a potter's work I see online that gives me an idea of how I should complete a project or a new technique to try. Other times it comes when I am in the middle of a piece and the way it comes together makes me think of how I want to complete it.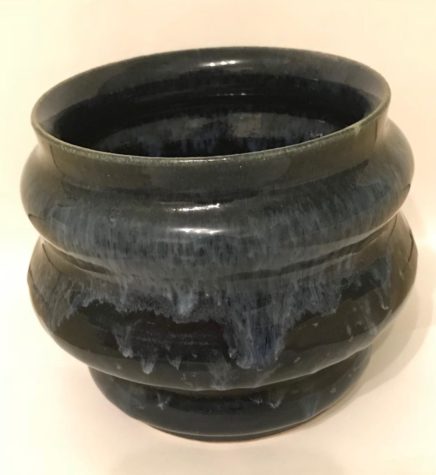 What is your favorite part of the clay process?
Nate: My favorite part of making clay is trimming. It's fun to see how a piece can turn out after simple trimming.
Maggie: My favorite part of the process is seeing the finished pieces when they come out of the glaze kiln because you are finally able to see your vision of the piece come to life.
How long/how much practice did it take you to become as skilled as you are now?
Nate: I have taken clay for six semesters. Since second semester freshman year.
Maggie: I have been in four clay classes and was also able to use the wheel last summer.
What is the piece that you are most proud of and why?
Nate: My most favorite pieces I gave away, but my favorite one that I still have is my giant vase.
Maggie: The piece I am most proud of is my giant woven coil pot because it was a very time consuming piece and there were a couple of challenges in making it, but I am very happy with the final product.
Would you recommend that people try clay/join clay class?
Nate: I would recommend joining clay and sticking with it because it is a fun class to take and it challenges your creativity. You can make gifts for friends/family or pieces to put around the house.
Maggie: Yes! I would absolutely recommend taking a clay class because it allows you to look at art in both a functional and sculptural way, and the classes are super fun!