Boys basketball cruises past Jordan
On Friday, the Holy Family boys basketball team returned home and faced off against the #12 Jordan Hubmen. In an difficult matchup for the Jaguar's with their third game in four nights, the Fire showcased their overwhelming talent with an 85-55 victory.
As Fire Fan Night commenced, the gym filled with spectators and a variety of media outlets covered the school. The boys knew that this was an important game for them. They knew that they had to come out prepared to play against a high-caliber Jordan team. Captain Nathan Hendler talked about the team's thoughts going into the game, "When we play it's not about the other team, it's about us. Pretty much, our only fear is us getting in the way of us. If we play to our abilities, we can beat any team."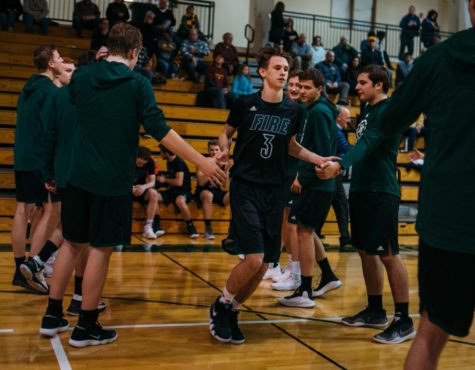 The first half was an uptempo contest that displayed the contrasting approaches of each team, with Jordan working in the paint and the Fire shooting from the outside. Fortunately for the Fire, their shots were landing as they built a substantial lead going into the half with a score of 42-32.
Captain Lincoln Cizek elaborated on the team's performance in the first half, "We're kind of a one-and-gun type team. That's what we do. If we can keep up this confidence in our three-point shooting and versatility across the boards, we'll be good."
In the second half, the Fire continued to build on their already substantial lead, nearly doubling Jordan's scoring output 43-23. Out of their 15 field goal attempts in the second half, 11 of them were 3-pointers led by Cizek and Nathan Hendler. The Fire hit from the outside with 20 shots, 8 from Cizek and 4 from Hendler. In addition to the amazing shooting, the fan section and intrigued spectators helped to motivate the team.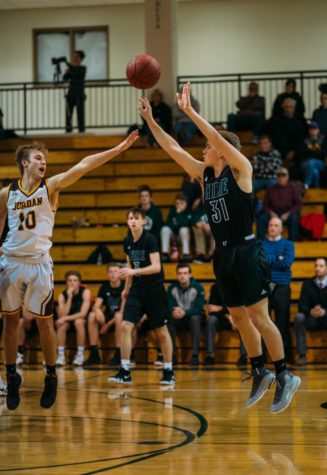 Lincoln dropped 28 points, propelling him to #1 in the state for completed 3-pointers with 54 total. Nathan Hendler dropped 20-points on the night and follows behind at #10 in state with 34 total. On the night, the Fire completed 20 out of 41 attempted 3-pointers, shooting under 50%. In the end, their confident 3-point shooting led them to a dominant 85-55 victory.
Coach Matt Thuli commented on the atmosphere of the game, "It was awesome. I think it's great for our kids since they haven't played at home in a long time. We've been playing well on the road and I think it's great that they came home and played well for their families, fans, and classmates. Hopefully with this big win there will be a cycle of new spectators who come out and watch us play basketball."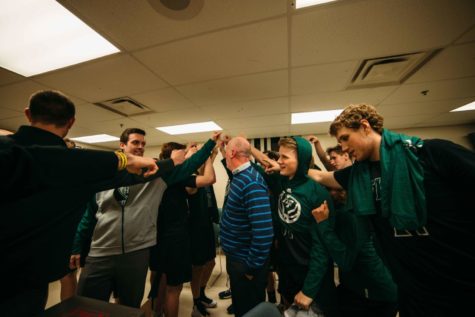 At the end of the night, we asked Coach Thuli a couple of questions about the team and their newfound motivation:
In one word, what would you describe this game? How was your guys' performance? 
"Above-average. That's two words but oh well, a hyphen will work. I knew we could definitely play with them, I just didn't know it was going to end like the way it did. I thought it was going to be a lot tighter of a game, but the way we completely dominated the way we did was pretty amazing."
What are you looking to improve on for the upcoming games? 
"I think we can definitely improve on rebounding the basketball, not having so many turnovers – we can sometimes be sloppy with the basketball when we play a little too fast. I hope we don't fall in love with the way we shot tonight. We need to keep moving the ball so we can get better open shots. Yes, we made a lot of threes, but it's because we made that extra pass and found our teammates. And when we have open shots like that, we just gotta make them."
The team's next game is home on Friday, January 19th @7:00pm against the #6 Class 3A Orono Spartans.