"Thought Patrol" wins Catholic Schools Knowledge Bowl Invitational
On Monday night, Holy Family Knowledge Bowl hosted their first home meet of the year, the Catholic Schools Invitational. Schools like St. Agnes, St. Thomas Academy, Holy Angels and more sent teams to compete.
Although most meets don't include questions related to Catholicism, this meet included questions based on encyclicals, the Catechism, the Bible and other related sources in addition to typical knowledge bowl questions.
At the beginning of the meet, there was a written round, then teams were assigned a room with a total of three other teams. There were 45 questions for each of three rounds.
Holy Family had 21 students compete in the meet, split up amongst five teams. The varsity team "Thought Patrol" won the meet and the JV team "You Betcha" were the JV champions.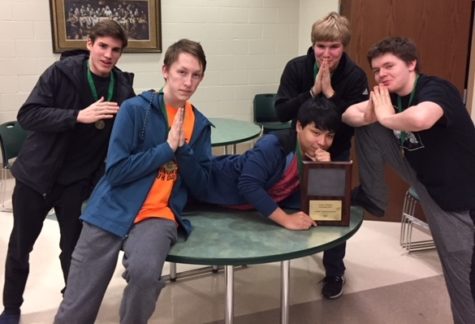 "Thought Patrol" has been rolling over opponents this year and this meet was no exception. In the third and final round of the meet, the team comprised of Thomas Farrell, Walter Treat, Bryce Villanueva, Leo Pinamonti, and Mitchel Jans scored an impressive 109.5 total points, which secured the invitational win with 20 points  to spare.
The winning JV team, "You Betcha" was comprised of Ewan Farrell, Kalie Dahl, Kathryn Jans and Lucy Treat.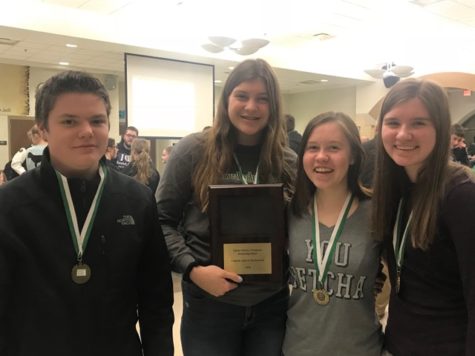 When asked about Thought Patrol's success this season, Mr. Walker said, "Part of this team's success comes from the fact that so many other team members who come to practice to keep it fun and competitive." Team member Leo Pinamonti added, "We have strong team chemistry and years of experience together."
Knowledge Bowl's next meet is on Saturday February 10.