Boo!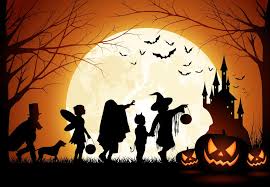 The season of candy corn, costumes, and crisp colored leaves is upon us, and as Minnesotans know, you must get out and enjoy the season while it lasts. Trick or treating and gatherings with friends and neighbors on Halloween night is a great way to celebrate this time of year, but why wait that long if you don't have to? This past Sunday the 28th, Holy Family hosted our tenth annual Halloween party with "trunk" or treating, fun themed games, delicious treats, and a spooky haunted house. All family's with children ages kindergarten through 5th-grade were invited, and the turnout was fantastic!
Each year the party has grown and expanded on the previous year due to the increase in guests. It once started as a more private party in a small section of the school. Now the invitation has become open to the community, so the party has poured outside into the parking lot for "trunk"-or- treating,  on a path around the school for the haunted hayride, and into the main hallways of the school and locker bays for the fun games, delicious treats, and artsy crafts. All activities are primarily run by student volunteers, however, the event could not be made possible without theology teacher Mrs. Bosch.
If an event needs to be put on effectively and with a clear and concise goal, Mrs. Bosch will get the job done. As preparations were being made Mrs. Bosch explained to my fellow classmate volunteers and I that the goal of this Halloween Party "is to build community by serving our larger community. We invite children 5th grade and under from local schools, faith formation programs, and our neighborhood to attend. Our guests are invited to bring canned goods which go toward our Food Drive, which supports our local community". Holy Family is a Lasallian school and Mrs. Bosch touched on that saying that "the event certainly fits our Lasallian mission of service and community". This is an exceptional opportunity students have to participate in this mission through our school.
Superheros, police officers, and Disney characters wandered the halls of our school this past Sunday putting smiles on the faces of all those around. They played games, ate treats, and got warmed up for the big Halloween night. Volunteering the event was truly a wonderful time that made me feel like a little kid again, and it also allowed me to experience the joy of making a kid's day. Many of the families and kids that attended have come to support our sports teams or musicals so it was great that we were able to return the favor. This truly is an amazing event that is not just fun and amusing, but it also builds community. Mrs. Bosch explained to me that her favorite part is watching her high school students interact with the young kids because they have always been such great role models and respectful to our guests. Thank you to all volunteers who made the event possible: your efforts did not go unnoticed! I highly recommend volunteering at the event next year in any way possible because it gives a feeling of contentment, and it is overall a very fun day to grow closer to your classmates and community.