Playoff Predictions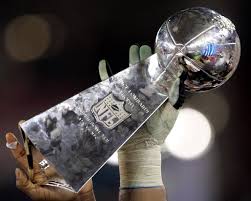 17 weeks of grueling pounding and innovated schemes have finally led us to the long-awaited playoffs. Before football goes into hibernation for the next 7 months or so we get to see the best teams battle it out head to head for the coveted Lombardi Trophy (in case Viking fans are curious the Lombardi Trophy is the trophy that the winner of the super bowl receives… if that description still seems foreign to you, ask a Packer fan for more information). There are many matchups football fans have been anticipating to see in the playoffs, and now the wait is finally over. Now we get to see divisional rivals such as the Green Bay Packers face off against the Minnesota Vik… wait… neither of them are in? I guess that goes to show that you can never quite predict how games are going to turn out, but I'll try to give you some teams to look out for in these playoffs, and others that we won't be watching into mid-January.
       1. Wild Card team that can book their ticket to Super Bowl 53:
It's the Los Angeles Chargers and it's an easy decision. The fact that this team did not win their division is scary. What they showed this season is that they can beat some of the better defenses in the league, and their offense can also hang with the best of the best offenses in the league. Philip Rivers is having possibly his best season after 12 years of being the Chargers starter. Melvin Gordon has proven to be an explosive back with big-play potential anytime he touches the ball. The Chargers have activated their number one receiver Keenan Allen to compliment Mike Williams who filled in nicely for the Chargers catching two touchdown passes when Allen was out against the Chiefs in week 15. With a great defense featuring rookie Derwin James presenting himself as one of the leagues top safeties. Also not to mention, the Chargers have been playing in a stadium that holds only 27,000 fans, so they kind of feel as if they have played 16 road games this year: the fact that they will be on the road throughout the playoffs will make them feel right at home, and won't be a problem. I would not want to have my team playing these Los Angeles Chargers during the playoffs: don't be surprised if we find the Chargers booking a ticket to Atlanta come early February.
       2. The team with a bye that can kiss Super Bowl hopes good'bye':
Sorry, Kansas City, you're so close, but not this year. Young quarterback Patrick Mahomes has proved that there are few things that he can't do on the football field, but winning the Super Bowl will not make it onto his resume after this season. Through week ten of this season, it looked as if the Chiefs would walk into the playoffs as Super Bowl favorites. Then in week 11, they lost on the road to the Rams in what looked like it might be the Super Bowl matchup this year. However, the next week their star running back Kareem Hunt was abruptly released due to legal trouble. The following week they beat possibly the worst team in football by a mere 7 points. That performance was then followed by a three-point overtime win which showed that their offense could be stopped. And the team continued to show that they are beatable when they lost back to back games in their week 15 and 16 matchups. It is tough to win playoff games with a 24th ranked scoring defense, but they have the top scoring offense so they should be fine right? Not so fast: ten out of the twelve teams in the playoffs have a top 15 ranked defense, and every other AFC team in the playoffs has a top 10 scoring defense. This might be bold but I would be surprised if the Kansas City Chiefs represent the AFC in the Super Bowl this year.
       3. The team that doesn't belong:
The Dallas Cowboys. Sure they have won seven of their last eight games, but I am not convinced by this team. They do have a solid 6th ranked scoring defense that was able to limit the explosive Saints offense to just 10 points in week 13. However, in week 17 this same defense allowed 35 points to a 5-11 Giants offense that was averaging 22 points a game through week 16. Yes their offense did put up 36 so they won the game, but against the elite defenses starting with Seattle on Saturday, this offense will not be able to match a team putting up 30 plus points. I just don't see Dallas doing much this year.
       4. Which Animal is dead meat? 
The Philadelphia Eagles will become the prey next Sunday, January 6th. The season for the reigning super bowl champs has been disappointing and unpredictable, to say the least. They are sitting with the 18th ranked offense and 12th ranked defense. Carson Wentz returned and put up solid numbers including a 3:1 touchdown to interception ratio. However, similar to last year Carson Wentz season has ended early with a fractured vertebra. Unlike last year, Nick Foles will not be making another magical run to the Super Bowl. Overall the Eagles season was not impressive with the only good thing they did being winning their last three games against very respectable opponents and sneak into the playoffs. This was a very impressive run and it means they are hot, but that's not enough to convince me that they will make any noise in the playoffs with a banged up Nick Foles and his 18th ranked offense against the top defense in the league in the Chicago Bears. The Bears will be smelling blood in Chicago this Sunday.
       5. Strongest 1 Seed:
I like the Saints, I really do. They have shown vulnerability and that they are beatable, but the trio in Quarterback Drew  Brees, wide receiver Michael Thomas, and running back Alvin Kamara will be tough to stop in New Orleans throughout the playoffs. Their defense has made plays when they need them to, so I think the offense will get all the help they need from their defense to show that they are the legit Super Bowl favorites. They also still have the bitter taste of the Minneapolis Miracle in their mouth, and a Super Bowl title is the only way to rid of the taste. 
Sit back and enjoy the last football games of the year because we are in store for an exciting postseason!
(written before start of playoffs)