Timberwolves Have a Disappointing First Half of the Season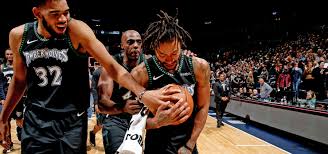 The Timberwolves came into the season with high expectations after ending a decade long drought from the playoffs last season. When the Westgate Las Vegas Superbook had the T-Wolves at an over/under 44.5 wins for the 2018-2019 season during the preseason many people felt like the Sports-book was under appreciating the Timberwolves as that would place them at 8th in the Western Conference.
Now midway through the season its looking like Westgate may have actually over appreciated the T-Wolves as they are 21-23. They are on pace for a 40 win season and currently sit outside of the playoffs. There are many factors that have played a part into why the season has been such a disappointment for the Wolves up to this point. Jimmy Butler forcing his way off the team is one such example.
Not everything has been bad for the wolves this season however. Derrick Rose's rejuvenated career has been a huge plus for the T-Wolves. He's actually having one of the best seasons of his career. He's averaging 19/5/3 on 50/46/85 shooting percentages. Yes 46% from three point range. He has the 5th best three point percentage out of all NBA players this year, actually shooting the same percentage as Steph Curry. To put this insane number into context, he has a career three point percentage of just 31%.
The T-Wolves recently just fired head coach Tom Thibodeau on January 6th after a win against the L.A. Lakers hoping that perhaps a new coach can lead this team back to the playoffs again. They are currently being coached by interim coach Ryan Saunders, the son of Flip Saunders who coached the Wolves a few years back. Since the firing, the Timberwolves have went 2-2. Hopefully the T-Wolves can turn the season around and make a second half of the season push into the playoffs. Their next game is Friday January 18th against the San Antonio Spurs.