A New Chapter in HF History
Holy Family receives first ever chaplain among new teachers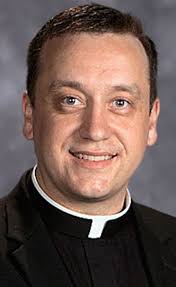 At the start of the 20th year in Holy Family's history, the school welcomed four members to the staff. Among them were Mrs. Redshaw (a returning teacher and tutoring center supervisor), Mr. Wiebusch, Mrs. Kahle, and Fr. Nels Gjengdahl. Fr. Gjengdahl was the chaplain at St. Thomas Academy for seven years before being moved temporarily to a parish in St. Paul. Archbishop Hebda has now relocated him to Holy Family as full-time chaplain. "I am excited to welcome Fr. Nels as co-chaplain of this team," Fr. Bob White said at the Football Mass this fall. Fr. Gjengdahl has started daily Mass at HF and has made it to all the football games he can, cheering the players on from the sidelines. He has also presided over the All School Mass and the Ignite the Fire Mass this year. This is a great beginning to many great years to come, we are truly blessed to have Fr. Gjengdahl as our first chaplain here at HF and we wish him the best as we keep him in our prayers.
Mrs. Meg Redshaw
Favorite Ice Cream: Ben & Jerry's Cherry Garcia
Mrs. Redshaw has come back to Holy Family from what she calls her sabatical year in New Jersey. She originally came to Holy Family as a long term sub in January, 2005 for Dr. Pottebaum, became a full time faculty member  2006-2008 when her family moved to Colorado. She took advantage of an opportunity to return in 2015, "I chose to return because this is an amazing family to be a part of. I was sad to leave last year, but I am so thrilled to be back." She went to Northern Illinois University and studied history, political-science, and secondary education. Her masters work was completed at Colorado Christian University and Southern Illinois University. She is also a certified ADHD professional. "What I love about Holy Family is the ability to really get to know our students and their families," she said as she returns this year as the tutoring center advisor and specialist.
Mrs. Lauren Kahle
Favorite Ice Cream: Cake Batter
Mrs. Kahle is a new health teacher at Holy Family. She is looking forward to creating new relationships with other teachers and students in class and in extracurricular activities. She also hopes to attend some of the mission trips through the school. "I chose Holy Family because I get to live out my faith and love for God each and every day. I can educate students on living a healthy life, while also teaching them about the love of God. Holy Family seemed like a great place to work and I was very welcomed by every person that I met." She graduated from St. Cloud State University with a Bachelors Degree in Health/Physical Education. She also received her DAPE license from Mankato State University.
Mr. Trent Wiebusch
Favorite Ice Cream: Cake Batter (from Coldstone Creamery)
Mr. Wiebusch in a new Social Studies teacher at Holy Family. He will also be taking over for Dr. Pottebaum and Mrs. Halvorson in presiding over the HF Mock Trial team. He is most looking forward to the community at Holy Family, and being supported and challenged by his peers as he "seeks to support and challenge each student that walks in his classroom." "Such a magnanimous Family is what makes the school the fiery beacon it is, and to build relationships with students, their families, and my fellow faculty is my chief goal." Mr. Wiebusch chose Holy Family because of both its beautiful mission and values, and its intrinsic sense of community. "There is a true and holy fire burning at Holy Family wherein all are welcomed, challenged, and inspired to become the best versions of who they can be." He attended the University of Mary in Bismarck , ND, earning his Bachelor of Arts degree Summa Cum Laude in Secondary Education and History, with a minor in Spanish and a concentration in Politics. He is also a licensed 5-12 Social Studies and K-12 Spanish teacher, and a licensed Emergency Medical Technician. He completed his coursework and training for his EMT at Allied Medical in St. Paul, MN.
We are all very excited to have these wonderful teachers join the Fire Family, please make them feel welcome as they begin this next chapter in their lives!