Hurricane Dorian and Its Effects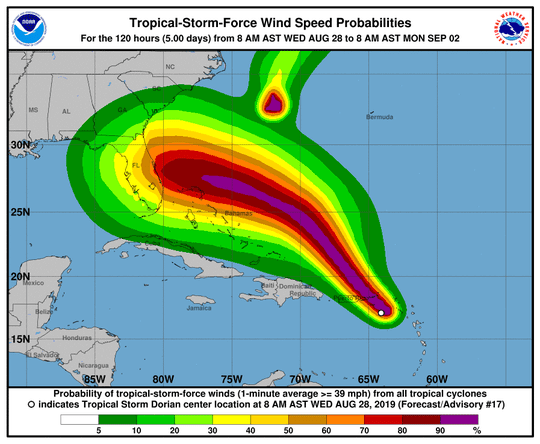 Hurricane Dorian was the strongest storm to ever hit the Bahamas. It's winds sustained 185 mph making it a category 5, and its tied with hurricane Irma for how long it has lasted. At least 50 deaths were confirmed, and around 70,000 people are homeless. Relief efforts are on their way and helping the best they can. If this hurricane has been so destructive then why hasn't gotten as much media coverage?
Dorian was an incredibly intense and long lasting storm. I have relatives on both sides of my family affected by the it. My grandparents live 15 minutes from the shore in North Carolina and they got hit at the beginning of the storm. They were also affected by hurricane Florence and had to evacuate. They decided to stay while Dorian passed through and thankfully they did not get hit as bad as last year. They said that they mostly got extreme winds and large amount of rain.
My aunt also got hit by Dorian but they got affected in a different way. She lives in Beaumont, Texas and her whole neighborhood got flooded to the point where they can't go into their house. They did not get as much wind as North Carolina and surrounding states but they still got huge amount of rain for a few days.
The States, however, did not get the worst of Dorian. The area that was most affected by Hurricane Dorian was The Bahamas; and it was the strongest storm to ever hit them. Dorian directly hit the Abaco Islands and Grand Bahama. The severe flooding crumbled the concrete walls and snapped trees in half. There was estimated 7 billion dollars in damage, and not much has been done so far to help that. There are at least 50 people dead and around 1,300 people are missing. People have started to clean up degree and rubble, but they're worried that they might run into bodies. Relief efforts are on their ways and continue to come and go, but it will take a long time to take care of this damage.
All in all, I think that we should be shedding more light onto natural disasters. We should be giving more money and supplies toward foundations that help these affected areas. There have been many natural disasters that haven't received the help that they need and they are suffering. As a faith biased community we should donate to help those in need, as we did with the collection from our Spirit of Fire Mass this year. Praying is also something we can all do, and it's free.