Girls Soccer – Up Close
Starting off the season with a 4-2 record against big competitors, the girls Varsity Soccer team hopes to continue to keep moving forward with high intensity and positive attitudes. With new coach, Sammi Crocker, the girls Varsity Soccer team kicks into high gear and is working hard on and off the field to show their best talents on the field. After speaking with coach Crocker and asking what she is hoping to see from the team the rest of the season she states, "I couldn't have hoped for a better start to the season, but for the rest of the season, I hope we continue to grow as a team – to learn new skills, to grow together as a unit on the field, to support each other in inevitable ups and downs, and fight to win – both in character and on the field". This theme of community and family continues to show in all the girls' practices and their games. The senior captains – Ella Haley, Maggie Rothstein and Caitlin Rock – agree that through hard work, determination, and a positive attitude the girls soccer team will be able to prevail throughout their season. Senior captain Rock continued to associate the winning record to the team chemistry. She says her favorite part of the team "is how much fun we have and how funny the team is, there is not a time where we are dead silent. Someone is always singing, dancing or making jokes". Rock also explains that due to the strong relationships that have been built, it creates a sense of sisterhood where everyone is looking out for one another on and off the field. The theme of Community is written all over Holy Family, the girls' soccer program is just an example of what success can come from such strong ties. After speaking with both senior captain Maggie Rothstein and coach Crocker, it's clear that they both attribute the team's success to the closeness of the girls' soccer program. With ages ranging from thirteen to seventeen and grades ranging from seventh to twelfth grade, it is very important to create a family with everyone. With such slim numbers of girls in the soccer program, it has given the chance for every girl to truly get to know one another. Which in turn has brought success and joy to everyone involved.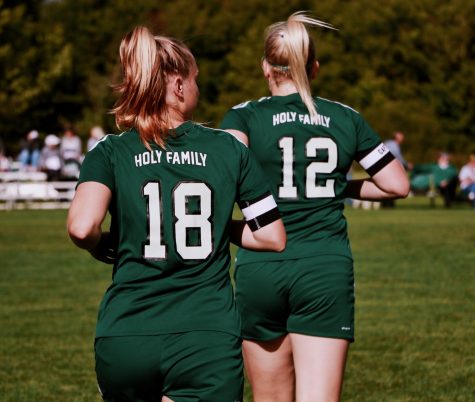 The girls' soccer program is taking off faster than seen before and there is no sense of slowing down from any of the players involved. Coach Crocker says "the strongest trait of the girls' soccer team is their chemistry on and off the field and with a decently small roster, it's crucial that the girls remain injury free and healthy as best they can this season so we can stay at full force. Attitude is going to be key to stay humble and focused as the season progresses". All the coaches and players on the girls' soccer team plan to continue their hard work and as setbacks may happen, they will pick themselves up and continue forward. Senior captain Haley expressed that the team is highly motivated and willing to go the extra mile to show their efforts and that is what will make the Holy Family girls' soccer program stand out from the rest. As all players and coaches involved have plans to go far in the season, everyone is focused in on what must be accomplished to get there.