2019 Boys Soccer Section and State Tournament Preview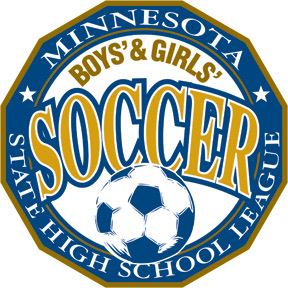 The Minnesota High School League (MSHSL) sponsors almost all high school sports tournaments in Minnesota, including boys soccer. The boys soccer section tournament starts this week. The teams are divided up by size and location, with the biggest 64 schools compete in class AA  and the 146 smaller schools competing in class A. Both classes have 8 sections decided based on school location. AA sections all have 8 schools each, and A sections have 17-20 schools each. The winner of each section tournament will compete in the state tournament.  This is my predictions for the section and state tournaments.
*These are strictly my opinion based on research and film watched*
1A- The first of the small school sections, this section is located in the Southwest and South-central part of Minnesota. The winner of this section will most likely be Austin, who defeated our Holy Family in last year's state tournament quarter-finals. The only team I see knocking off Austin is La Crescent-Hokah, but is far fetched after an impressive Austin season, with only 1 loss and currently ranked at 5th in the state.
Winner- Austin
Contenders- La Crescent-Hokah
2A- The Southeast small school division contains mostly unknown programs who took big leaps this year. I really like Bloomington Kennedy to win this section, going 11-2-2, and beating teams like Benilde- St. Margarets, Minneapolis South, and Robbinsdale Cooper. Mankato West will be the main contender with Kennedy, and even schools like Waseca and St. Peter could cause some upsets.
Winner- Bloomington Kennedy
Contenders- Mankato West, Waseca, St. Peter
3A- #1 ranked and undefeated Holy Angels should crush the rest in this section. However, they may face a strong and hungry competitor in an early round, which could shake things up. St. Paul Academy is a squad that has looked good at some parts of the season, but inconsistency has plagued this team. Goalkeeper Duncan Fleming has shown flashes of all-state talent this year, but the real questions come from the striker core.
Winner- Academy of Holy Angels
Contenders- St. Thomas Academy, St. Paul Academy
4A- In my opinion, this is the most open section, with no clear favorite. The Northeast metro schools have been dominated by Hill- Murray, but a 1-3 loss against DeLaSalle changed my perspective on them. Even with a couple bumps this season, the defensive savvy Pioneers team will play rival Mahtomedi for the section championship and crack at state. St. Paul schools Como and Washington, along with smaller private school Hmong Prep and St. Croix Prep, and more, will look to disrupt bigger teams in earlier rounds.
Winner- Hill-Murray
Contenders- Mahtomdi, STP Como, STP Washington, Hmong Prep, St. Croix Prep, St. Anthony, Mounds Park Academy
5A- This section will come down the final, with rivals Breck and Blake almost certainly facing off against each other or fellow top-10 ranked team Totino-Grace. In one of the most competitive regular season games of the year, Breck edged out Blake 4-2, but I think this game could easily go into overtime. No other team really has a chance against these 3 powerful teams. I think Breck wins against Blake in OT.
Winner- Breck
Contenders- Blake, Totino-Grace
6A- Holy Family's very own section will be a most likely 3 team battle, as the Fire have tied #2 Waconia and #4 Orono. The Fire will almost certainly face both of them, unless teams like Delano and Southwest Christian upset the ranked teams early on. I think the Fire repeat as section winners.
Winner- Holy Family Catholic
Contenders- Waconia, Orono
7A- Although only 1 game over .500, Duluth Marshall has had a very intense strength of schedule. Although I believe St. Francis or Hermantown will get the #1 seed, Marshall can still play any type of soccer they want against whatever team they want in this section.
Winner- Duluth Marshall
Contenders- St. Francis, Hermantown
8A- Just like 6A, a 3 team battle is ahead of us. The teams will be Rocori, Sartell-St. Stephan, and Bemidji. Bemidji is ranked #10 in the state, and should win the section, but Sartell and Rocori have strong scoring presences in the midfield, with Bemidji lacks.
Winner- Bemidji
Contenders- Rocori, Sartell-St. Stephan
1AA- The first of the big school sections has statistically the worst teams out of any other section. Lakeville South has not had a good year, Farmington and Northfield have good records but weak schedules, and Rochester Mayo hasn't been able to get a solid streak going. I think Mayo comes out of this section, even though anything can happen in this Southwest division.
Winner- Rochester Mayo
Contenders- Lakeville South, Farmington, Northfield
2AA- Dubbed the section of death, this metro based section has 8 exceptional teams. Edina leads the section with an undefeated record ranked #1 in the state. #7 Minnetonka has only lost by one both times they played Edina. Eden Prairie and Shakopee have younger teams, but have racked on noticeable victories throughout the season. Edina has a history of losing big games in the section and state tournaments. I see this happening again, with Edina losing to Tonka in the finals.
Winner- Minnetonka
Contenders- Edina, Shakopee, Eden Prairie
3AA- This section will be dominated by #4 Eastview and #8 Lakeville North. Lakeville North has been unpredictable this season, where Eastview has shown more consistency. I believe Eastview will win this section.
Winner- Eastview
Contenders- Lakeville North
4AA- This is another section with multiple teams looking to win state. The 3 main schools will be #3 Woodbury, #10 East Ridge, and a very impressive Stillwater program. I see Stillwater in the finals, along with East Ridge, and East Ridge taking the section. I love Woodbury as a team but they have had a fairly easy schedule and are not tested enough. Park of Cottage Grove is another potentially dangerous team.
Winner- East Ridge
Contenders- Woodbury, Stillwater, Park of Cottage Grove
5AA- This Northern metro section will, I believe, be dominated by the#9 ranked team in the state, St. Paul Central. Honestly, I don't believe anyone will have a chance against these guys. Junior midfielder Assem Elsayad has helped this squad tremendously with 18 goals and 9 assists.
Winner- St. Paul Central
Contenders- Literally no one else
6AA- This section, which I believe is the 2nd hardest in the state behind 2AA , has #2 ranked St. Louis Park and #5 ranked Minneapolis Washburn. It is also to be noted that last Saturday, October 5th, Washburn beat SLP 2-1. Because of this, I think that Washburn will again beat SLP if they face off again. Watch out for Wayzata, who didn't have the best regular season, but packs an impressive roster.
Winner- Minneapolis Washburn
Contenders- St. Louis Park, Wayzata
7AA- #6 ranked Andover should have no problem getting through this section and on to state. Only a single loss this year, which came early in the season to Woodbury, no one in this section will give any sort of challenge except Duluth East. With a deep run last year as the State Runner-Up, this team lost lots of Seniors.
Winner- Andover
Contender- Duluth East
8AA- This section is very, very, very wide open. Personally, I think Brainerd has a little bit of an advantage because of the 10-1-2 record they have, but any of the other 7 teams (Buffalo, St. Michael Albertville, Elk River, Maple Grove, Rogers, Moorhead, Osseo) will have strong chances.
Winner- Brainerd
Contenders- Literally everyone else
Using my predicted section winners, here is how I believe the state tournament will go down.
A State Tournament Seeds
1-Holy Angels
2-Breck
3-Austin
4-Holy Family
5-Bemidji
6-Bloomington Kennedy
7-Hill-Murray
8-Duluth Marshall
I believe all 4 higher seeds will move on to the quarter-finals, except for Austin, which I believe will be knocked of by Bloomington Kennedy. I think the finals will see Holy Angels Completing their perfect season beating Breck, just like they did in early September.
Winner-Holy Angels
Runner Up-Breck
Third Place-Holy Family
AA State Tournament Seeds
1-Eastview
2-MPLS Washburn
3-Andover
4-Minnetonka
5-STP Central
6-East Ridge
7-Brainerd
8-Rochester Mayo
I think that the semi-finals will see Eastview losing to Minnetonka, and Minneapolis Washburn beating East Ridge. The final of Minnetonka against Washburn will be intense, but I think the Millers will edge out the Skippers on OT.
Winner-MPLS Washburn
Runner Up-Minnetonka
Third Place-Eastview