HSM: The Musical: The Series review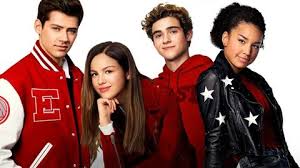 High School Musical: The Musical: The Series is a Disney Plus original that was released on November 12, 2019. There will be 10 episodes in season one and two. The new show got a 4/5 from common sense media, 6.7/10 from IMDB, and a 77% from Rotten  Tomatoes. This show is a mockumenatary, which is a tv show or a movie that is supposed to be depicting fictional events but presented as a documentary
The show follows the drama students of East High as the new theater teacher, Miss. Jenn, tries to execute the production of High School Musical: The Musical. The main characters include Nini who was cast as Gabriela Montez, who is the main love interest and a nerdy singer. Ricky, who just so happens to be Nini's  ex-boyfriend, was cast as Troy Bolton, the captain of the basketball who falls in love with Gabriella.  Nini is caught between the feelings she had for Ricky and her relationship with the senior jock, EJ, who was cast as Chad, the best friend and right-hand-man to Troy. This will be a difficult role for both of the boys to execute because of the growing animosity between them. Ricky wants the girl back, while EJ wants to keep Ricky as far away from Nini as possible. The drama club will go through drama of its own including relationship drama, the Miss Jen scandal, tension between friends and foes and much more. The drama club will need to be all in this together.
People who grew up watching High School Musical will enjoy this show for many reasons. One is the fact that the show is being shot in the same school that the original movies were filmed in. So you are able to see the halls that Troy sang the iconic song "Scream", the hallways that Troy and Gabriela walked through holding hands, the courts that the Wildcats would play basketball on, the theater stage where Troy found his voice and much more. Another thing others would  appreciate about this show is the original music. A few of my favorite songs from the show are "Wondering" by Olivia Rodrigo and Julia Lester, "All I want" by Olivia Rodrigo, and "I think I Kinda, You Know" by Joshua Bassett and Olivia Rodrigo. This is show airs its new episodes every Friday which is perfect because after a long week of tests, sports practices, loads of homework, you can kick back and enjoy Joshua Bassett sing old High School Musical songs that you were incredibly fond of growing up.
Hang on for a minute...we're trying to find some more stories you might like.