A Definitive Ranking of the Songs from Frozen 2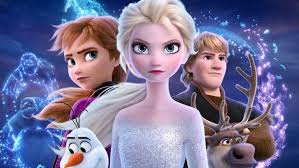 * Warning: Before you read any further, please keep in mind that it will contain some spoilers!*
Frozen 2 came out on November 22, 2019. It follows Elsa, Anna, Kristoff, Olaf, and Sven as they learn about Arendelle's past in an attempt to save it from the fifth spirit.
Like the first movie, the music is extremely well-written and catchy. Their adventures in the forest contribute to some strong solos from Anna, Elsa, Kristoff, and Olaf. If that's not your thing, don't fret, because there are a few wholesome duets as well!
Below, you can find a list of my personal favorites. It was great to see some more depth to Kristoff and Queen Iduna's characters! Also, I will probably never get over the adorable gecko.
#1: Show Yourself
Elsa has been searching for the fifth spirit for a good portion of the movie. Now, during this song, Elsa discovers that *spoiler* she is the fifth spirit. This, along with "Into the Unknown", are great power anthems that feature an outfit change and beautiful animation. We see Elsa with her hair down!
#2: All is Found
Queen Iduna sings a lullaby to young Elsa and Anna. We hear it more than once throughout the movie as it *spoiler* helps Anna and Elsa learn about Arendelle's past. It is both a beautiful lullaby and a eerie warning.
#3: Some Things Never Change
Elsa, Anna, Olaf, and Kristoff sing a quartet about the happy ending of the first movie and how well the beginning of the movie is going. We learn that *spoiler* Elsa has been hearing a strange voice and that Kristoff is planning on proposing to Anna.
#4: Into the Unknown
Elsa is frustrated and confused, because she has been hearing a siren's call. In this song, she is asking for the voice to give her answers/tell her what to do. This confrontation *spoiler* causes Arendelle to go into a great panic, as it seems that this spirit is taking away their resources. On the bright side, we see Elsa in a ponytail and pants!
#5: Lost in the Woods
Finally, a song by Kristoff that isn't about reindeers! This song is about *spoiler* Kristoff's struggle to propose to Anna and the fact that he finds very much of his identity in her.
#6: When I Am Older
Olaf sings a song while he is alone in the woods. During it, *spoiler* he has a few encounters with the spirit, who he likes to refer to as "Gale." Just like "In Summer", it acts as comic relief from what can be considered a pretty dark storyline.
#7: The Next Right Thing
Anna is left alone with Olaf in a cave after Elsa goes to confront the spirit. However, *spoiler* Olaf begins to lose his magic and eventually completely disappears. Anna believes that this means Elsa has lost her magic and is possibly dead. This song is full of grief in the beginning, but it becomes more of an anthem when *spoiler* Anna gains the courage to step up as a leader and act in Elsa's place.
#8: Reindeer(s) Are Better Than People
Yes, this is the exact same song from the first movie. However, this time, *spoiler* Kristoff is joined by Sven and the other forest reindeers. They act as backup singers.