Prince
Prince Rogers Nelson was a well known singer, songwriter, musician, and musical innovator. Prince was born in Minneapolis, Minnesota on June 7, 1958. Prince developed a love and passion for music at a young age and taught himself how to play the piano, guitar, and drums. Prince signed with Warner Bros. Records in 1978. Prince was found dead at his Paisley Park Compound in Chanhassen, Minnesota on April 21, 2016 due to a drug overdose. Minnesota lost an icon the day he passed. Prince was part of Minneapolis, just as it was always a part of him.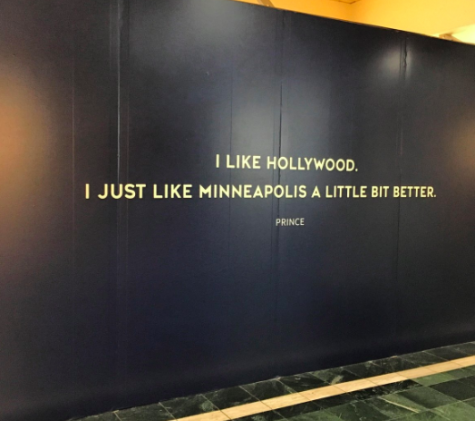 Ever since I was a young girl I have had a love for Prince's music that goes beyond a regular Minnesota fan's of his. My dad used to dedicate "The Most Beautiful Girl In the World" from Prince's album The Gold Experience to me when I was little. This album was his seventeenth studio album, and it was released on September 26, 1995. Prince released 39 studio albums and many other albums of different types. My favorite thing about Prince is that he was versatile. He pulled off making music of any style, and he constantly switched up who he collaborated with. He made a song for everyone's liking, and just when you think you knew every song he wrote, you would hear one that you had never before heard.
My best friend Kaia was very close with Prince. Prince's grandma was twin sisters with Kaia's dad's grandma. Her dad, Charles "Chazz" Smith was very close with Prince, and he played different instruments in lots of his songs. My favorite moments in life are typically spent with Kaia when we are listening to his songs while driving with the windows down. Being with her while we play his music are the times I feel most at peace. She often tells me about the times that she wakes up to her dad playing his songs on the drums as he did for many of his albums. She describes those mornings in such a beautiful way.
Prince was a musical pioneer who died too soon, but; his spirit and music never vanished with his passing. There is something special about the way music brings people together, and that is exactly what his songs did.
Listed below are a few of my favorite Prince songs for anyone who may only know his well known hits.
"If I Was Your Girlfriend"
"Future Soul Song"
"Somebody's Somebody"
"CLOUDS"
"It's Gonna Be Lonely"
"With You"
"Diamonds and Pearls"
"Controversy" (Extended Version is best)
"She's Always in My Hair"
"The Most Beautiful Girl In the World"
"Beautiful, Loved and Blessed"
"Pink Cashmere"