Series: Artists' who are Modernizing the Fine Arts
Banksy is an anonymous British graffiti artist who is known for his antiauthoritarian art. Not much is known about is age or where he is from, yet he gained a lot of attention as a graffiti artist in 1993. He has used a few methods to his work, but since the 2000s he has used stencils to enhance his speed and sharpen his work. He has spread his work in many different forms, the most well-known method is murals in public. Yet in 2003 he participated in an art exhibition by painting on the bodies of live pigs. In another exhibition he featured replicas of Claude Monet, Vincent van Gogh and Edward Hopper and then released 200 live rats in the gallery. Banksy describes himself as a quality vandal, always challenging authority and art institutions. He has written many books that explain how and why he chose to do what he does; He shows examples of many of is iconic pieces. He even directed a film documenting the worlds most talented graffiti artists.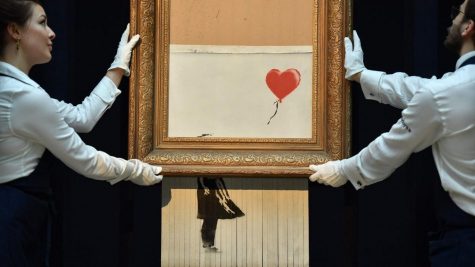 One of the Banksy's well-known stunts was in late 2018 girl with balloon canvas version where he shredded the famous work in front of an audience who just paid $1.4 million for the piece. He had admitted to the prank and even stated that the shredder inside the frame malfunctioned, because it was meant to shred the whole canvas. Although Banksy has earned a large name for himself, he has remained anonymous. He rarely does interviews and when he does, they are conducted over e-mail or with responses delivered by an altered voice on tape. He says that he will remain committed to street art, because a life in a city where graffiti is legal would be like a party where everyone is invited.