Jorgenson, Blood Hopeful for 2020 NAHL Draft
For HF senior Lucas Jorgenson, and sophomore Nick Blood, the last 2 years have been extremely successful, as two have combined for 129 points. For high school hockey players around the US, the goal is simple: Get drafted into the USHL (United States Hockey League) or NAHL (North American Hockey League), which are junior hockey leagues. Playing well there, they attempt to attract the eye of colleges coaches, if they haven't already in high school. This past week, the USHL draft was held, resulting sadly in neither of the Fire players getting drafted. Next week however, is the NAHL draft.
The NAHL has added a new Supplemental Draft, which will be held on Tuesday, May 12th, while the regular NAHL Entry Draft will now be held on Tuesday, July 21st.  The Supplemental Draft will consist of 81 selections with each of the 27 NAHL Teams receiving three picks. The draft order will be determined by the order of the NAHL Entry Draft. In addition, each NAHL team will be been given an additional tender on May 13th, which can be used following the Supplemental Draft.For the entry draft, NAHL Teams use a mix of in-season scouting along with team tryout camps and NAHL Combine to select players in the Entry Draft. The Entry Draft order will remain unaffected by the addition of the Supplemental Draft. Before the Entry Draft, NAHL teams will turn in their protected list of tenders and veterans in order to determine the number of picks they will have in the Entry Draft.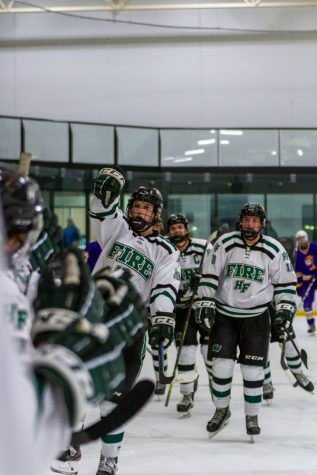 For Blood, he still has a safety net of 2 more high school years and chances of being drafted. For Jorgenson however, this is his last chance. The tall forward has all the skills and tricks to be a NAHL star, but will 1 of the 26 teams draft him?