Series: Artists' who are Modernizing the Fine Arts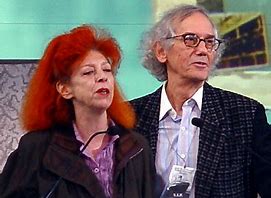 Christo was born in Gabrovo, Bulgaria to a Vladimir Javacheff and Tsveta Dimitrova. Christo father was a businessman and ran a fabric factory and his mother was a secretary at the Academy of Fine Arts. Even as a young child Christo was recognized for his artistic skills and outlook by many professors at the Academy. As he grew up, he chose to study at the Academy from 1953-1956 and then left to the Czech Republic until 1957. Christo then left for Austria and quickly settled in Vienna. He enrolled in the Vienna Academy of Fine Arts and after one semester he moved to Paris in 1958. His life in Paris was defined by isolation and financial struggles and worsened as he tried to learn the French language. He earned money by painting portraits and signed with his family name rather than "Christo". Christo has said that he compared painting portraits to art prostitution. Finally, in 1973 Christo became a United States citizen. In 1959 Christo had met his wife, Jeanne-Claude when he was commissioned to paint a portrait of her mother. Jeanne-Claude was to marry another man, but she was pregnant with Christo's baby and soon left her husband. Due to the situations Jeanne-Claude's parents distanced themselves from her for many years. In 1964, the two of them settled in New York City where Christo began to present his work in many galleries. He soon began to create storefronts which he built to scale; with the sale of the storefronts it helped the couple's financial situation even more. For many years the couple worked together, but only put Christo's name on it due to the prejudice against female artists; therefore, Jeanne-Claude become Christo's manager.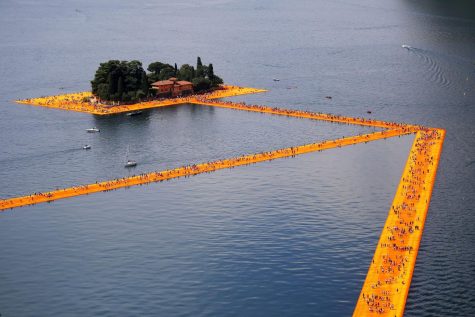 Jeanne-Claude was a firm believer in the beauty of works of art and she wanted to create works of joy and beauty. For many years the couple worked exclusively with photographer Wolfgang Volz in creating fine works of art. Christo and Jeanne-Claude began to make larger pieces of art that was meant to emphasize the environment it was in. Most of these large pieces were either seasonal or temporary, this ensured that it would attract as many viewers as it could. One of the most notable works were the Floating Piers of Brescia, Italy. Visitors could walk along the surface due to the brightly colored walkways that were put in place by Christo. After a few weeks of access to the piers, they were removed and recycled.