Band Returns After Covid Setback
Another school year at Holy Family has started, and with it the sounds of trumpets, flutes, and laughing students fill the music wing that has been silent since March 18th. That's right, band is back! The coronavirus pandemic has presented a brand new set of challenges for the Holy Family concert band, but none are unsurmountable.
Band director Laura Boillat has  put several plans into action to accommodate covid mandates in her classroom. First, over the summer, she purchased materials and spent time sewing various fabrics together into instrument head covers that allow her students to play their instruments without the risk of blowing their breath all around the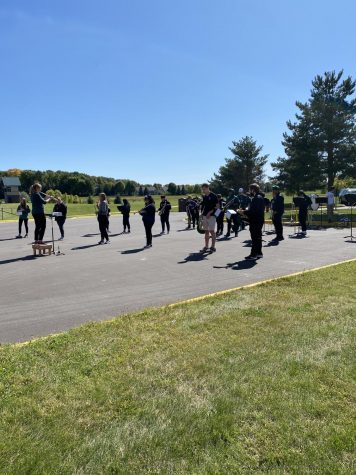 room. The second workaround, and probably most obvious plan, has been the decision to rehearse outside. In the corner of the loading bay parking lot, the band can be found every other day as they practice their new pep band music. While practicing outside is a fun way to observe social distancing and improve the band as a whole, it is also the agent of a few obstacles. According to Mrs. Boillat, "Band outside definitely presents its challenges, some of those being gusts of winding blowing music around, as well as the glare of sunlight on music and off instruments."
However, she also says that band outside is a lot of fun. A change of atmosphere and fresh air adds a sense of enthusiasm to class, allowing for students to improve their playing while experiencing something new.
Rehearsing outdoors will soon become difficult during the harsh months of winter. She has prepared several precautions for when the band makes the full-time move back indoors. Among them, Mrs. Boillat's hand-sewn instrument covers and purchased band friendly masks which will specially fit over the mouth of each respective instrument. The band looks to the future in hopes of performing soon. In the meantime, they will be practicing hard outside!