Daily Mass at Holy Family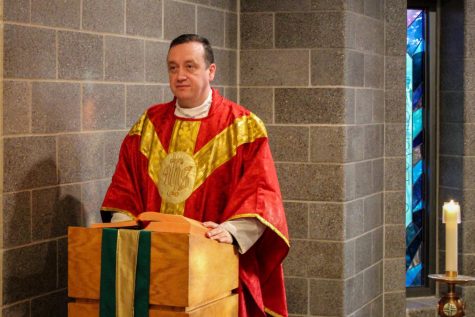 Holy Family's Chaplin, Father Gjengdahl, is offering mass every morning at 7:15 A.M. in the Sacred Heart Chapel. Daily mass is a wonderful way for students, faculty, and staff to begin their day. The mass is an ongoing spiritual formation that brings us closer to God. Being able to celebrate the Eucharist first thing in the morning is a special privilege we have here at Holy Family. I interviewed Father Gjengdahl to answer some questions about daily mass. 
Q: How would you describe daily mass to someone who has never been before? 
A: "Daily mass is a simple mass that is intended to be shorter and fit into a typical weekday." 
Q: Why should students at Holy Family consider attending daily mass? 
A: "Students should consider attending daily mass for two reasons: One, it is very easy to forget about God over an entire week, but if we attend daily mass, we can begin our day with the love of Jesus. This strengthens us for whatever challenges we may face that day and reminds us of God's merciful love. The second reason is that it builds our relationship with God. God desires to have a living relationship with each of us and the Eucharist is the source and the summit of that faith and relationship." 
Q: What is different between Sunday mass and daily mass? 
A: "Daily mass is a simplified version of a Sunday mass. The essence of the mass is still the same with readings and the Eucharist. However, there is no singing, no creed, only two readings instead of three, and the homily is very short (which makes everyone happy). Daily mass is usually only 20-25 minutes." 
Q: What is your favorite part of the mass? 
A: "My favorite part of mass is the opportunity to focus only on God and his love for me. We have so many things to think about on a daily basis, but when I go to mass, the only thing that I need to focus on is God's love: in the Scripture readings, in the prayers together with the community and most especially in the Eucharist. It is a time simply to be with God." 
I hope you consider attending a daily mass sometime in the near future.