Holy Family's Response to the International Lasallian Days of Peace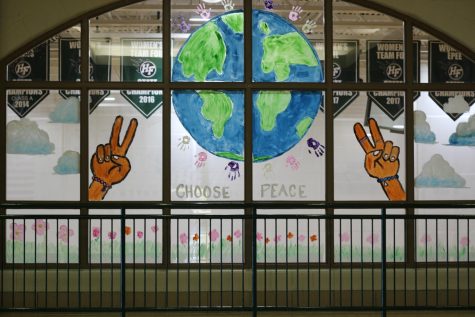 September 21 marked a month-long period that is special for Lasallian schools across the world: The International Lasallian Days of Peace. This year's theme, fittingly, is "I choose peace". The theme remarks on the idea that peace is not passive, but instead an active part of our lives. With the combined factors of COVID-19, the impending election season, and instances of injustice, it is important for the Holy Family community to spread the message of peace.
Spearheading the deliverance of this year's theme is Mrs. Bosch and her Campus Ministry class. From convocations and prayer to posters and murals, Mrs. Bosch and the student-led Campus Ministry are emphasizing this year's message of choosing peace. Other peace-related activities from Campus Ministry include contacting local food shelves and praying in our school's chapel.
As the Lasallian Days of Peace wraps up, the posters and murals will be taken down, but the spirit of this year's theme lives on. The Holy Family school community strives to teach its students to bring peace into the world. Upcoming events that the Student Council and Campus ministry are holding are a Canned Food and Winter clothes drive. Make sure to participate in these drives… there will be prizes!