An Overview of Mock Trial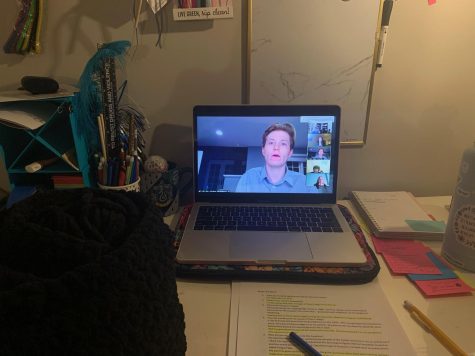 Mock Trial this year is up and running, with Mr. Wiebusch as the team's faculty advisor. Mock Trial is an educational program where students are introduced to the legal system by acting as witnesses and lawyers in competitions against other schools. Each year, a new case is distributed by the Minnesota State Bar Association and is used by all of the Mock Trial teams in Minnesota. Mr. Wiebusch says, "This year's case is a civil contract dispute between an engaged couple and a wedding venue, cast in the light of Minnesota's COVID-19 restrictions and the cancellations that occurred in consequence. It is a gripping story, and who knows what the jury will decide…"
The Holy Family Mock Trial members are split into two teams: prosecution and defense. The prosecution's first meet was on January 7 against Edina. As the prosecution and defense teams do not have competitions on the same day, the defense team's first meet was on January 14.
A few necessary changes have been implemented this year because of the pandemic. All competitions this year are being held virtually, similar to how the actual court system conducted trials while they could not be in-person due to COVID-19. However, students are able to practice together in-person, allowing them to be well-prepared for meets.
Mr. Wiebusch shares, "My favorite part of being faculty advisor to the Mock Trial team is to see students develop a passion for the law and participating in our legal system." He continued, saying, "Our Mock Trial students are profoundly intelligent, delightfully witty, and incredibly dedicated."
If you are interested in the legal system or criminal justice and are looking for a fun opportunity where you can learn important skills and have fun, consider joining Holy Family's Mock Trial team!