Quick thinking allows HF winter sports to continue amid COVID-19
With a recent outbreak of a new strain of COVID-19 occurring in the southwest Twin Cities, this week has been somewhat hectic for varsity athletics at Holy Family. The state recommended a shutdown of all youth sports in and around Carver County for two weeks starting last Monday, as a result of a cluster of positive COVID cases being linked to the highly contagious B.1.1.7. U.K. variant. The outbreak was partially traced to youth sports, but through quick thinking and decisive planning, Holy Family sports teams have actively combatted the spread while continuing to pursue their athletic endeavors.

Holy Family Athletic Director Nick Tibesar understands how important the end of the winter sports season is to Holy Family athletes. Through his and the rest of the Holy Family administration's consistent efforts, the dance, basketball, and hockey teams have been able to continue their seasons, despite the recent outbreak.  This is because since the news of the outbreak was made, the entire school was required to be tested for COVID-19 before returning to school in person. In addition, all Holy Family varsity athletes have been attending school online for the remainder of their seasons, while maintaining their practice and game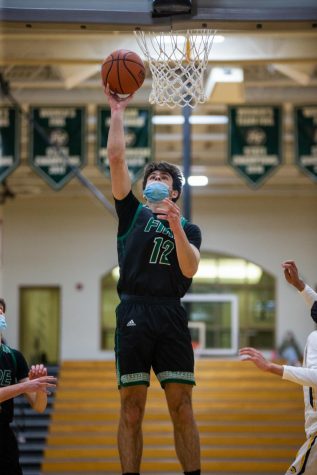 schedule. This partial quarantine of the school's winter athletes, combined with the efforts of the school's administration to make sure every student was tested, has proved successful thus far and has ensured both the members of the teams and their classmates who are attending school in person stay safe. "The ability to get our entire school tested in a short window of time was a huge advantage to us", says Mr. Tibesar. "It's the kind of thing you can pull off at a school like ours that isn't a realistic option for large public schools."
Several varsity teams around the metro have had their seasons ended effectively this past week due to the detection of a positive case. Most recently, the Shakopee Boys Varsity Hockey team, seeded sixth in the Section 2AA tournament, was forced to withdraw after a positive case was noted last week. Because of this, the Minnesota High School Hockey League is working on a solution to solve the problem of lacking a team in the tournament. However, this did not effect Holy Family's first-round play, as they defeated fifth-seeded Chaska in their quarter-final match-up on March 18th.