Christmas desserts!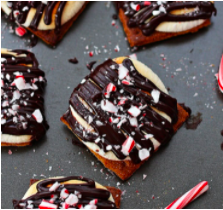 Christmas is the best time of year! To get into the holiday spirit why not try out one of these simple recipes. All of these cookies or treats require little time and are fun to make. The list is endless when looking for recipes so here are some recipes that look amazing! Another plus is that all these recipes are simple and only take on average 40 minutes to prepare. 
Candy Cane S'mores 
Ingredients:
16 graham crackers squares (8 crackers halved)

16 big marshmallows

1 cup semi-sweet chocolate chips

5 tbsp heavy cream

crushed candy cane
Instructions
Heat the oven to 300F.

In a microwave-safe bowl place the chocolate chips and heavy cream and heat until melted and smooth, stirring every 30 seconds.

Line the graham crackers on a cookie sheet, top with a marshmallow, and place in the oven for about 2 minutes or until the marshmallows are slightly golden on top and puffed.

As soon as you get the pan out of the oven, pour the melted chocolate into a pastry bag, cut the tip with the scissors (a small hole), and pipe over the toasted marshmallows.

Sprinkle candy cane on top and enjoy!
Cake Batter Truffles 
Ingredients: 
1/2 cup all-purpose flour
1/2 teaspoon vanilla extract 
1 tablespoon Christmas sprinkles + more for decoration
1 1/2 cups white chocolate chips or vanilla almond bark
Instructions
1. In a large bowl, whisk cake mix, flour, and sugar. Stir in melted butter, vanilla, milk, and sprinkles. The mixture should be moist and be able to hold its shape easily when formed. 

2. Using a cookie scoop, form the mixture into even balls and refrigerate for 20-30 minutes.

3. In the meantime, melt chocolate in a double boiler or slowly in the microwave. Using a fork, drop one of the cake batter truffles into the chocolate and roll around to coat. Tap off the excess gently and transfer to a cookie sheet lined with wax paper. 

4. Top with more sprinkles, if desired.
Peppermint Oreo Krispie Treats
Ingredients:
20 Candy Cane Joe Joe's or Oreos, crushed/chopped (about 2 1/2 cups crushed)

6 cups mini marshmallows

4 tablespoons butter

2-3 peppermint candy canes regular sized

2 oz white chocolate

2 oz semi-sweet chocolate

1/4 cup mini M&M's

6 cups of Rice Krispies cereal 
Instructions
In a large bowl, add cereal and crushed cookies. Mix to combine.

In another large, microwave-safe bowl, add marshmallows and butter.

Microwave 2 1/2-3 minutes, or until the marshmallows are super fluffy, and melt together when stirred.

Stir together, until the marshmallows and butter are fully combined.

Pour melted marshmallows on top of the cereal and cookie mixture. Use a spatula that has been sprayed with cooking spray to quickly mix the marshmallow cream and cereal together. Stir until combined.

Quickly, pour/scoop the sticky mixture into a prepared 9″x13″ pan. Spread the mixture around, and press down with a spatula.

While the cereal treats cool, crush 2 or 3 candy canes in a small ziplock bag. Sprinkle crushed candy on top of Krispie treats.

Melt the white chocolate by placing chocolate in a piping bag or heavy ziplock type bag, and microwave at 50% power until nearly melted. Kneed the bag a little in your hands (careful- it will be hot!) Snip off the end of the bag and drizzle chocolate on Krispie treats
Repeat as above with semi-sweet chocolate.

Top Krispie treats with mini M&M's or festive sprinkles.

Allow chocolate to set before cutting into squares.