Rating Chicken Sandwiches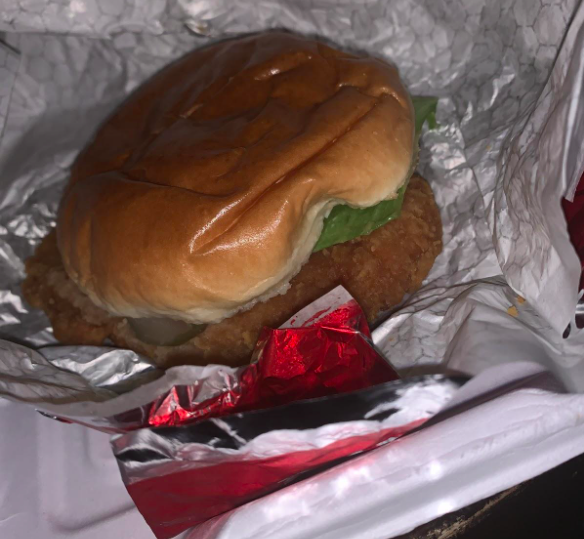 I traveled the metro in search of the best fast-food chicken sandwich. I reviewed various chicken spots, such as Chick-fil-a, KFC, McDonald's, Raising Cane's, and Wendy's.
My first chicken stop was Chick-fil-a. I had very high expectations, as it is known for its tender chicken and delicious Chick-fil-a sauce. It did not disappoint; their chicken sandwich provided the perfect balance between crunch and tenderness. The chicken itself was delicious and flavorful, but I decided that what completed the splendid meal was the sauce, which was what elevated the Chick-fil-a sandwich from the rest. The sweet, yet savory sauce gave the sandwich a complex layering of flavors that no other restaurants were capable of competing with.
Next, I went to KFC. KFC gave me by far the thickest piece of chicken, which surprised me because the contemporary fast-food chicken sandwich contains very thin slices of chicken. What really helped the sandwich was the bun, the golden glaze provided my palate with soft dough to complement the chicken. Their chicken was juicy and flavorful but lacked the crunch factor that is so desirable in the fried chicken industry. 
After KFC, I went to the famous McDonald's to try their relatively new crispy chicken sandwich. Their chicken was decent in size but lacked flavor and crunch. While the chicken was not very flavorful, the bun was well toasted and the sauce gave the sandwich flavor that concealed the blandness of the chicken.
Raising Cane's was my fourth destination on my journey to find the best chicken sandwich, and as everyone knows, Cane's sauce is the supreme fast food supplementary condiment. Cane's chicken was by far the crispiest chicken that I had tasted on my voyage. While not quite as tender and juicy as Chick-fil-a, Cane's made up for it in a crunch. Cane's tangy sauce gave the whole sandwich colorful and delicious flavors that were only rivaled by Chick-fil-a. 
The final spot I hit was Wendy's. I had decently high expectations as they are most famous for their chicken sandwiches. Unfortunately, I was very disappointed. They gave me a thin, soggy, and unflavorful piece of chicken. The first bite positively surprised me with its recognizable flavor, but as I continued to eat, the sandwich got worse and worse. The excess of lettuce and tomato made it almost inedible.
I decided to rate the various chicken spots out of 10. 
Narrowly edging out Cane's I decided the best chicken sandwich came from Chick-fil-a with a near-perfect rating of 9.4/10. The tenderness of the chicken mixed in with a very good crunch handed it the narrow victory.
Coming in second was Raising Cane's. The chicken itself was very good but the mix of the sauce and the chicken made it phenomenal. This chicken had by far the best crunch but lacked the tenderness and flavor that Chick-fil-a gave me. Cane's sandwich gets a rating of  9.1/10.
Third place goes to KFC. This sandwich had the best presentation, a nice thick piece of chicken and a smooth golden bun. It lacked a lot of crunch, but the flavor was good. Overall, this sandwich was not on Chick-Fil-a or Cane's level. KFC gets a rating of 8/10. 
Mcdonald's was a very basic chicken sandwich. It did not have many toppings and had a very basic taste, nothing special but nothing bad. It gets a rating of 6/10.
Coming in dead last is Wendy's. This sandwich lacked flavor and had too many toppings that drowned out the chicken. Wendy's gets a 3.4/10.