Staffs Favorites Thanksgiving Foods
The smell of freshly baked pumpkin pie wafts through the house. Families gather around a table to share a meal, and then around a television to watch football. Thanksgiving is here! Although it's easy for "Turkey Day" to be overshadowed by Halloween, Christmas, and even Black Friday sometimes, there are many things to celebrate about this late-November holiday. Thanksgiving can be more than just a point on the contented timeline starting the Christmas season.
  When someone thinks of Thanksgiving, food may come to mind first. Opinions on turkey, stuffing, mashed potatoes, and more dominate Thanksgiving discourse. I spoke to a selection of Holy Family staff members about each of their favorite holiday foods after celebrating numerous Thanksgivings. Here are the results.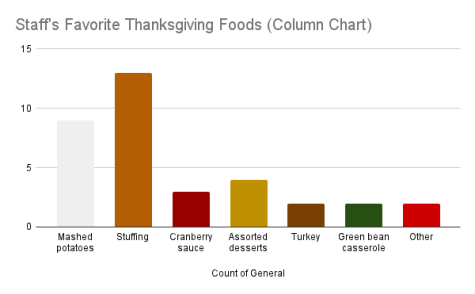 Staff interviewed: Mrs. Boerboom, Ms. Boettcher, Mrs. Boillat, Mr. Bosch, Mr. Brennan, Ms. Diggins, Mr. Dols, Mr. Dueck, Mr. Economy, Mr. Egan, Mr. Ermisch, Fr. Gjengdahl, Ms. Heck, Ms. Hiestand, Ms. Kahle, Mrs. Kandiko, Mr. Kannel, Mrs. Kidrowski, Mr. Livermore, Mr. Maus, Dr. McInerny, Ms. Navarette, Mr. Ocontrillo, Mr. Parzyck, Mr. Perrin-Smith, Mrs. Piatt, Dr. Pottebaum, Mrs. Redshaw, Mrs. Schreiner, Ms. Swanson, Mr. Theobold, Mr. Thuli, Mr. Walker, Mrs. Werner
Assorted desserts: Apple crisp, apple pie (x2), pecan pie
Other: Lasagna, tamales
Stuffing/dressing was the confident winner, with mashed potatoes trailing not too far behind. Despite the holiday's famous association with turkey, it had a pretty weak showing. Of course, many teachers had anecdotes to share with their decisions. Mr. Egan committed to mashed potatoes to honor his Irish heritage. Mr. Thuli was completely on board with mashed potatoes, but only with gravy. Father Gjengdahl has a family tradition of eating lasagna every Thanksgiving with his family, and Mrs. Navarette's family enjoys tamales.
Whatever your favorite Thanksgiving food, be sure to spend some quality time with your family during the holiday. Find something to be grateful for, and try a new food. Who knows, you may just discover your new favorite Thanksgiving dish.