Damar Hamlin Injury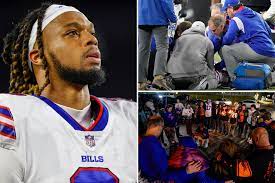 On January 2, 2023, the Buffalo Bills safety Damar Hamlin went down after a hit he made on Tee Higgins. Damar Hamlin went down at 5:58 in the first quarter of the Buffalo Bills and Cincinnati Bengals game on Monday Night Football.  Many thought he had just passed out or hurt something from the hit. Viewers watched, however, as he was given CPR on the field by the Buffalo Bills athletic trainer Nate Breske. Hamlin had gone into cardiac arrest on the field as medics were trying to put him into the ambulance. He was taken to the University of Cincinnati Medical Center, the only Level One trauma center in the area. That night, Damar Hamlin was intubated and put on his stomach to get the blood out of his lungs. 
When Hamlin was driven off the field, the Bengals coach Zac Taylor walked to the Bills head coach Sean McDermott to discuss what both teams had just witnessed. They decided to include the team members as well as all the coaches in the discussion of how to proceed. After almost an hour, they postponed the game.
On Thursday, January 5,  Hamlin woke up and communicated with doctors and family through writing. He asked his doctors who won the game. The doctors replied, "You won the game of life." The next morning Hamlin was removed from intubation and was able to talk to his teammates, though still considered to be in critical condition. Later that day, the NFL canceled the game altogether. At least 23,788,000 viewers tuned in on either ABC, ESPN, and ESPN 2. That Monday Night Football game became the most-watched NFL game since 2009. The number the the people watching the game was mostly the same as when the Damar Hamlin got injured during the game. People started to actually watch the game instead of doing something while the game is playing in the background.