Into the Wild Book Review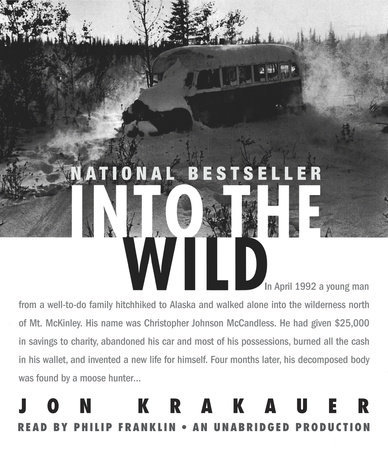 Students in Honors American Literature are familiar with Into the Wild. Everyone else is missing out on a great story. Into the Wild by Jon Krakauer provides interesting insights into the story of Christopher McCandless, a young man in search of himself and his place in the world. 
McCandless was an American adventurer who preferred to live a simple, solitary lifestyle. When he was younger he had a hard home life. His father had many secrets that he kept behind his wife's back which caused her to turn cold and not treat the kids as her own. Chris had a sister named Carine, with whom he shared a close bond. Throughout his whole life he went to her whenever he needed someone. Despite his relationship with Carine, the hardships that he endured at home caused him to become withdrawn from his parents and he began to figure out a way to leave.
McCandless was a smart kid and earned good grades, allowing him to go to college. While in college, he began reading works of Thoreau and Tolstoy. They preached the importance of living simply and not letting little or material things get in the way of living life to the fullest. After finishing school to please his parents, he made it seem as though he were going to get a job and have a good life straight out of college; however when they least expected it, Chris packed his bags and left without a goodbye.
The story focuses on the experiences of Chris and what he endures from start to finish of his adventure. I would recommend this book if you enjoy reading biographies, about nature, and the idea of uniqueness and nonconformity.