Fire Football Returns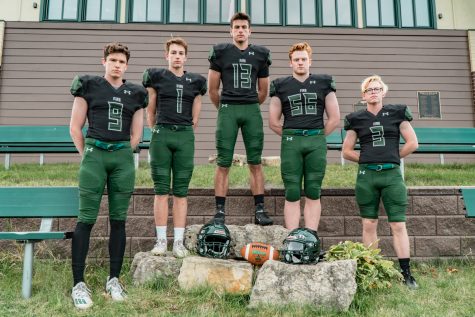 Holy Family football opened their season with a game versus Dassel-Cokato on October 9, 2020. The first game celebrated this year's seniors. The Fire is led by senior captains Tien Foudray, Jake Kirsch, Jakob Lenzmeier, Joey Richelsen, and Will Zay. The other senior players include Emiliano Corona, Thomas Guyer, Carver Kasper, Pat Mulheran, Tyler Pettibone, and manager Brendan Quinn. This is the opener of the shortened six game regular season. There will be two more home games, which include Glencoe- Silver Lake on October 15 and Milaca on November 6. The games this year are limited to 250 fans, with 75 tickets being reserved for Holy Family students.
The Fire fought hard but came up short. Tien Foudray scored the first touchdown for Holy Family with a quick run to the outside and into the end zone. Jake Kirsch found Tien Foudray on a long pass for the second touchdown for the Fire. The defense held strong, even causing Dassel- Cokato to fumble a couple of times. On one of the fumbles, Carver Kasper recovered it and took it the distance to score the final touchdown of the night for the Fire. The final score was 41-19.