Minnesota United FC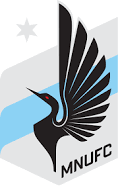 The Loons have started their season and are looking to become a powerhouse in Major League Soccer (MLS). Last season Minnesota finished 5th in the Western Conference last season and was eliminated in the quarter-finals by the Portland Timbers 3-1. As of writing this article, they are in 7th place in the Western Conference. Notable new players are Oniel Fisher from the LA Galaxy and Kervin Arriaga from Marathon in Honduras. The Loons also have two new returning players: Luis Amarilla and Abu Danladi.
With the new season underway, Canadian international Dayne St. Clair has caught the eye of the league after a clean sheet. He had 8 saves and even a penalty kick save against the New York Red Bulls! St. Clair not being the regular starter will now pose a threat to starting keeper Tyler Miller. 
Emanuel Reynoso, Minnesota's best player in the eyes of the league and in the eyes of many people, is looking to bring Minnesota to their first-ever MLS title. The Argentine player scored 5 goals and assisted 4 in the 2021 season, but even though the stats don't show it, he offers more than just goals and assists. He is one of the league's most creative players who can control the game and distributes the ball with ease. He is Minnesota's player to watch this season.