Día De Los Muertos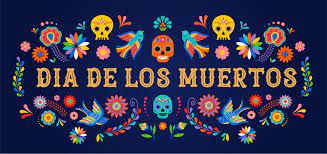 Once a year, our departed come back to celebrate with us. Day of the Dead starts on Sunday, October 31, and ends Wednesday, November 2. October 31 is specifically for children who left the world too early. Day of the dead is not a Mexican Halloween. A summary of this tradition: Mexicans have a tradition of setting an ofrenda dedicated to their ancestors with food and decorations that they liked. Decorations include marigolds, drinks, and cut-out paper. 
These traditions are done to remember and respect our family members who have passed on. It is believed that with this holiday, the dead have a chance to visit their family. The living family members treat the deceased as honored guests in their celebrations and leave the deceased's favorite foods and other offerings at gravesites or on the ofrendas built in their homes. Ofrendas can be decorated with candles, bright marigolds called cempasuchil, and food stacks of tortillas and fruit. Marigolds are believed to be the pathways that guide the spirits to their ofrendas. The flower's vibrant colors and scent attract the departed souls, as they return to feast on their favorite foods. They are called "Flor de Muerto" (Spanish for Flower of Dead) and they symbolize the beauty and fragility of life. In Mexico, this celebration is celebrated to the max. They have parades, festivals, and parties. The adults and kids dress up as skeletons to symbolize the dead. This is a celebration of life, not death. This celebration is supposed to be happy, not mournful. Día de los Muertos is an opportunity to remember and celebrate the lives of departed loved ones.
If you'd like to learn more, some movies go in-depth about the culture. Not many movies have come out about Day of the Dead, however, some of them are "Book of Life" and "Coco." Ask some of your Hispanic/Latino friends to learn, and perhaps make your own ofrenda to honor your dear ones. 
Hispanic/Latino culture is so beautiful and this is just a sliver of how we honor and remember our family. This celebration is very emotional and a way that reminds us that family never leaves. Our dead are never dead to us.